BASKET Bin! Berry Baskets with Maine Blue Chocolate covered Blueberries! Try Sweet Grass Farm Soaps..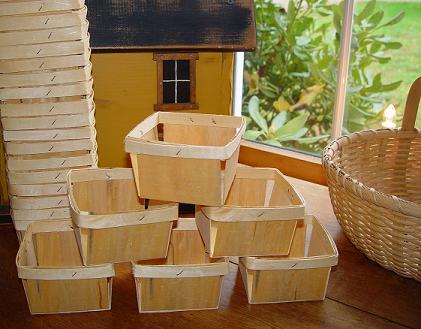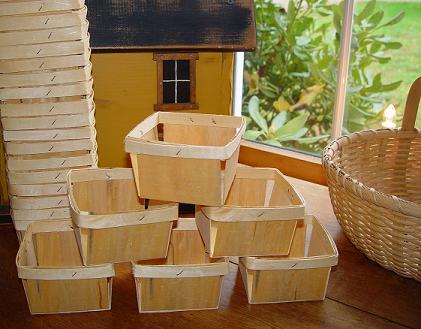 sale
BASKET Bin! Berry Baskets with Maine Blue Chocolate covered Blueberries! Try Sweet Grass Farm Soaps..
Cute berry baskets.. —-Maine Blue Chocolate covered Blueberries in Blueberry Basket! 12 oz the best chocolate. Big tail rafia and tag which can be personalized. $ 14.00 a Maine gift for sure!
Fun craft project for every occasion. Perfect Easter basket.
Include Stonewall Kitchen Blueberry Jam to start to your Wedding favors!
24 berry baskets…empty… for $ 19.20 shipping box anywhere USA $ 13.65. Only
item ordered--
singles .95 cents each. Quart size coming soon.
Why not have your favorite bag of chocolates placed in one of these berry baskets along with colorful tissue, paper shred and a personalized greeting!—————-
_____________________________________________
And our favorite…. SWEET GRASS FARMS SOAPS… 4 oz hand cut size $ 4.50 Pure essential oil fragrance
Hand-cut and hand-made

Long-lasting

Soothing for skin
We use high-quality olive oil as a base for our lovely soaps. Fragranced with pure essential oils, herbs, and nutrients, the soaps are hand stirred, hand cut and aged for 28 days. The soapmaking process is lengthy and we feel like we get to know each bar personally. They contain loads of natural glycerin and wonderful rich lather. We find that many people, once they try our soaps, can't go back to the harsh bars they were using before. They're absolutely smitten. Each hefty 4-ounce bar lasts a long time and will change your washing experience. Try one or two! All soaps are made in small, hand stirred batches with Olive Oil, Coconut Oil, water, Sodium Hydroxide, Spring water, Essential and Fragrance Oils and Herbs…
Buy 5—get one FREE $ 22.50 plus Flat rate shipping to all US STATES totals $30.00— and they make a wonderful gift! Just let us know your greeting…under "Get in touch' or send us an email.
_____________________________________________
…and 7 oz $7.50 triple milled size! Farmhouse Soap paper wrapper. From just over the line into New Hampshire! Coming soon! Milled in the French tradition, these rich and fragrant hard soaps produce a thick, frothy lather. We've infused each all-vegetable bar with a healthy dose of natural shea butter which is gentle, curative, full of vitamins, and provides balanced moisturizing for all skin types. The fragrances are derived from pure essential and fragrance oils and deliver just the right amount of delightful aroma to keep your skin healthy and happy! An old-fashioned bar of soap, just like Grammy used to use! All natural ingredients, Pure essential and fragrance oils, Available in four different fragrances.
Ingredients: sodium palmate, sodium palm kernelate, water, shea butter, glycerin, essential oils, fragrance oils, olive fruit oil
_____________________________________________
Peterborough 4 qt Berry Basket Handmade in Peterborough NH, coming soon! And Hand made Soap baskets..
Cute Blueberry Basket Magnet... says "Maine" only...
OH, IF YOUR ORDER IS A GIFT FOR SOMEONE WE CAN ENCLOSE A GREETING, EXTRA COLORFUL TISSUE, DOILY AND PAPER SHRED N/C WITH NO INVOICE IN THE BOX. LET US KNOW YOUR GREETING UNDER 'GET IN TOUCH' OR EMAIL US SEPERATELY. THANK YOU!
On your 'check out' page on your CART.... picture that you see may not be the one you are ordering but it willllllll 'state the correct item' you are ordering.
BE sure to pull the pull down bar down to view all choices!